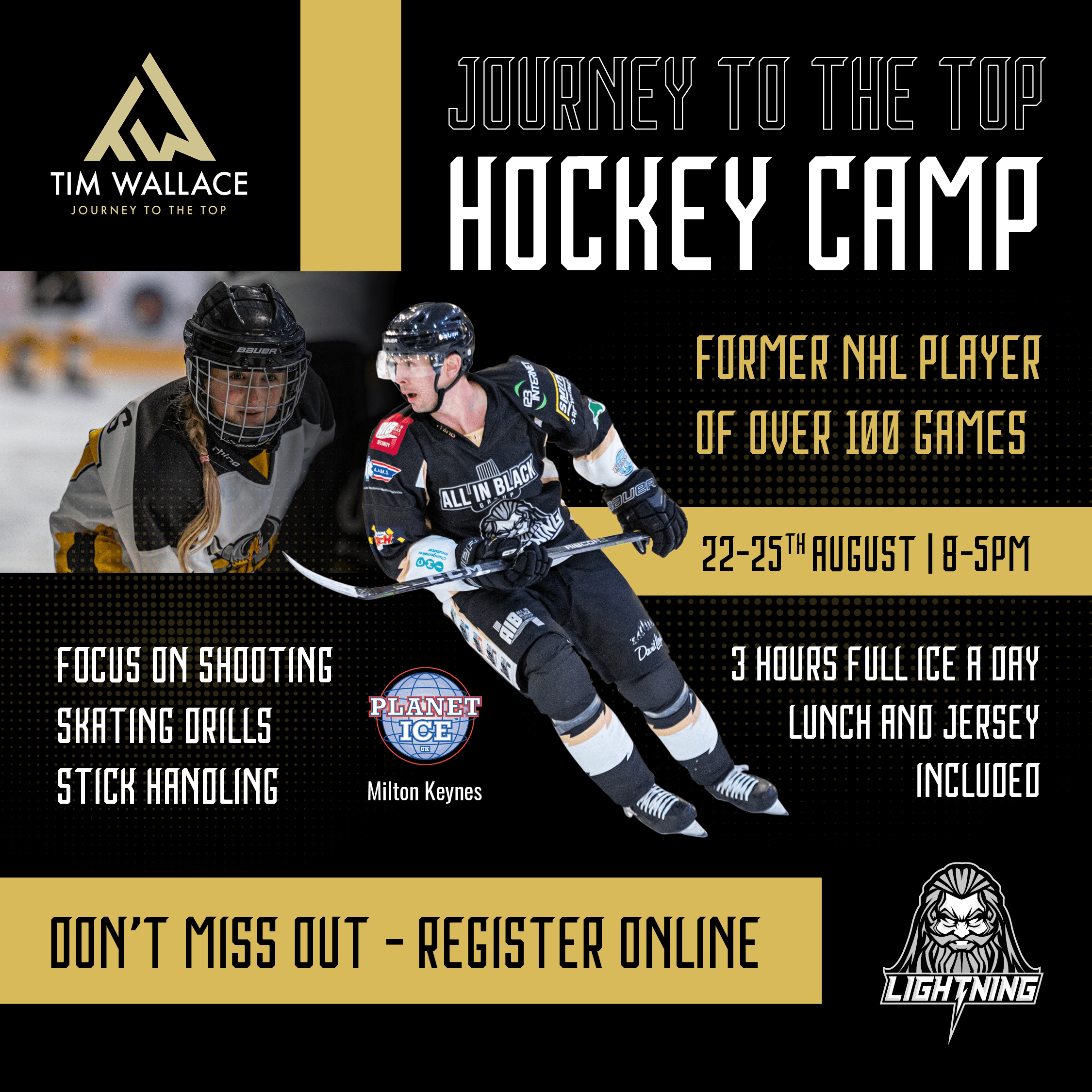 Introducing NHL star Tim Wallace's MK Lightning Summer Junior Hockey Camp 2022
This year we are delighted to be running a four day junior hockey camp in Milton Keynes, run by Lightning's very own Tim Wallace, who brings onto the ice top level coaching and experience of over 100 NHL games. Learn from Tim the secrets of being a top level pro, and how to build the skills and habits which will help in the Journey to the Top. The camp is open to junior players of ages 8-18 who are registered with the EIHA.
The camp runs over 4 full days with the following dates:
Monday 22nd August to Thursday 25th August – BOOK NOW
Timings are drop off at 8am, and collect at 5:15pm. Over the course of the 4 days, participants will enjoy 12 hours of ice time and instruction, 6 hours of off ice video/chalkboard/training sessions, and 2 hours of pro-player tips to help players take their game to the next level.
The *provisional timetable is:
08:00 | Arrival/ Breakfast (not included)
08:30 | Off -ice Warm up led by Tim/ get changed
09:15 | On ice session
11:15 | Warm down/ snack time (not included)
11:45 | Video/chalkboard session
12:30| Lunch (included)
13:30 | Off-ice training
14:45| Change into kit
15:15 | Scrimmage
16:15 | Warm down
16:45 | Pro player tips
17:15 | Day ends – collection
*Provisional Timetable – subject to change.
Participants will receive a hot, healthy lunch each day, and a jersey to keep.
The cost of the camp is £350 and places can be reserved online using this link.
There are single day options available too, places can be reserved here at £95 a day.
Hockey Camp Jerseys – please check your sizing here as they are different to standard sizing. For you jersey to be ready for the beginning of the camp you must complete the booking by 31st July.