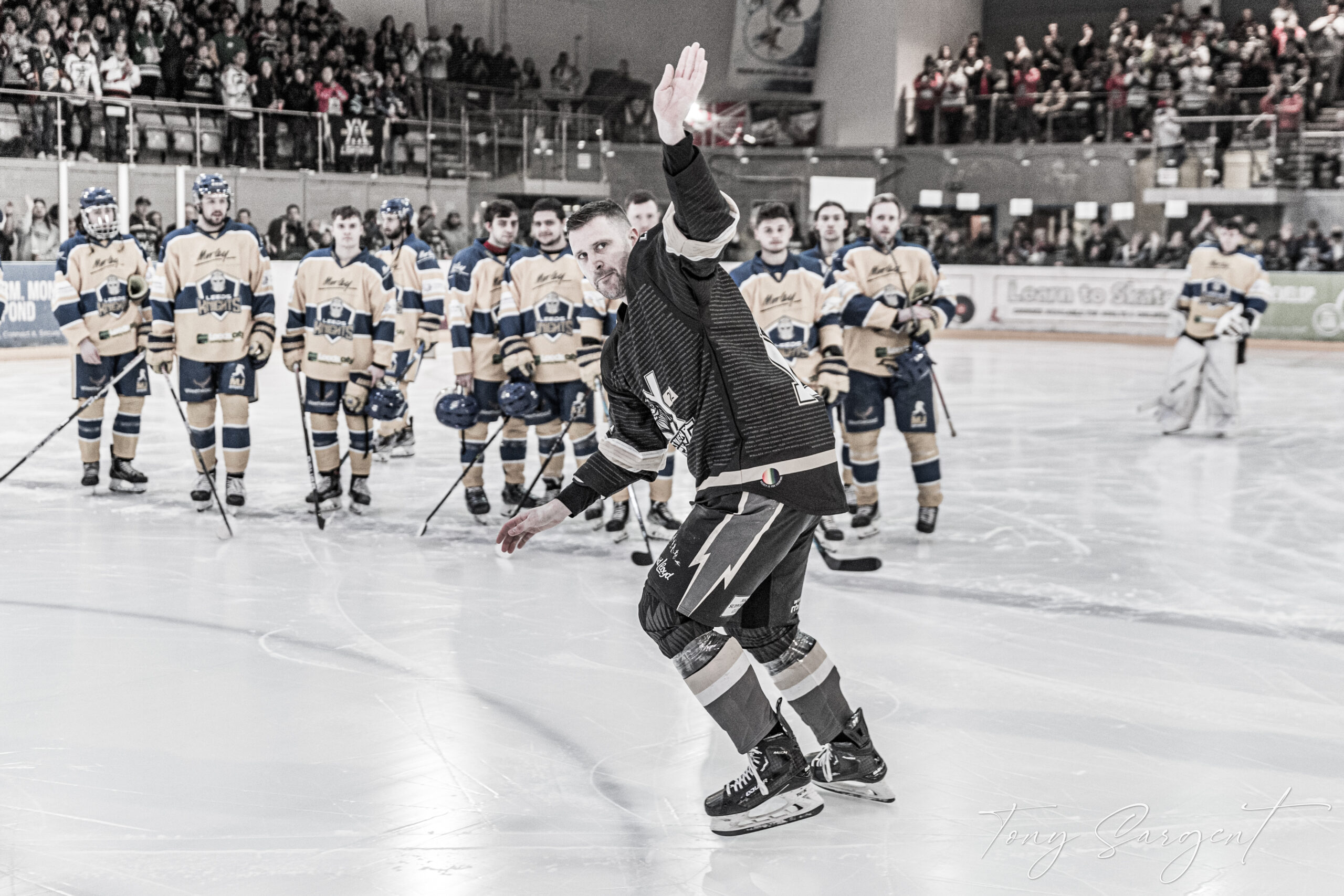 On Saturday the 18th November 2023, the #19 jersey of Leigh Jamieson will head up to the rafters to be made a part of Milton Keynes history.
"Tonight's game against Peterborough will see the retirement of Leigh Jamieson's number 19 jersey. The ceremony will see the "Jamieson #19" jersey hang from the rafters and mean that the number 19 won't be worn by another MKL player.
This is the fifth number retirement and puts Leigh in the company of Lightning legends Adam Carr, Grant McPherson, Nick Poole and Ross Bowers.
Born and trained in Milton Keynes, Leigh was a key part of the very first Lightning team formed in 2002, having made his senior debut at the age of 15 for the MK Kings. Leigh's impressive form in Lightning's first season saw him attract the attention of Belfast Giants in the Elite League, joining initially on a two-way deal.
After helping Lightning to a second play-off title, he signed full time in Belfast and would go on to spend five seasons in Northern Ireland before a season at Coventry Blaze.
In that time, he also represented Great Britain on the international stage on 26 occasions. "Jimba" – or "Jaimo" depending on who you spoke to in the rink – would return to MK in 2009, helping MKL to their third EPL league title.
He would remain at the club, seeing the redevelopment of the rink and becoming an alternate captain, until Lightning's move to the Elite League.
In the two seasons of Elite League, Leigh would play a season at the Phantoms and Streatham before returning to Milton Keynes for the NIHL National League campaign. Leigh is second for all time appearances for the Lightning and third overall for points with 181 goals and 371 assists.
He has played as both a defenceman and forward, finishing as top scorer in both the 2012 and 2013 seasons. In his time with Lightning, he has won two league championships, as well as three play-off championships and an EPL cup.
Leigh received his testimonial at the beginning of last season and announced his intention to retire at the end of the 2022-23 campaign.
However, the appeal of competitive hockey has seen him return to the ice playing for Lewis Clifford's Chelmsford Chieftains in the NIHL South 1 (Britton) division.
Congratulations Leigh for this recognition for all you have done for MK Lightning, and everyone associated with the club thanks you for everything you have given and achieved in Lightning colours both on and off the ice."
Written by Mike Walls